Legal Assistance For Your Motorcycle Accident Injuries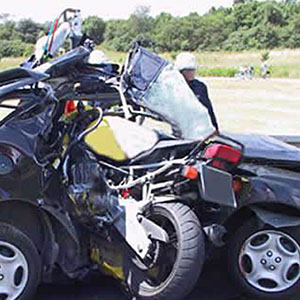 Motorcyclists know best: a motorcycle accident can be one of the most serious accidents on our roads and are most often, preventable. Injuries range from road rash to death. Some of the most common injuries include neck or head trauma which can result in serious permanent damage to the victim. These injuries can result in long term physical and mental consequences to the injured party and his or her family.
Call us to discuss what damages you are entitled to recover from the negligent party for your injuries. From the damage to your motorcycle to your medical bills, lost wages and income and future damages, we maximize your legal right of recovery while you work on returning to your pre-injury health. If you have been injured in a motorcycle crash caused by someone else's negligence, you need experienced and skilled legal representation. If the negligent party has insurance, that insurance company represents the wrongdoer's interest - NOT yours.
Common Motorcycle injuries:
Motorcycle injuries can be extremely serious with a majority of motorcycle accidents resulting in injury and even death. Some common motorcycle injuries include:
Road Rash
Bone Fractures
Traumatic Brain Injury
Spinal Cord Injury
Disfigurement
Fatality
Common Causes
Alcohol and drugs
Improper safety equipment
Speeding
Defective equipment
Failure to yield right of way
Driver Inattention
If you feel you have been a victim of someone else's wrong doing in your accident don't hesitate any longer.
Get Assistance Today
If you have been injured in a motorcycle accident and sustained serious bodily or head injuries, trust the professionals to take care of the legal process so that you can focus on your physical recovery. Contact me at 360.906.8330.