A Truck Accident Attorney Who Cares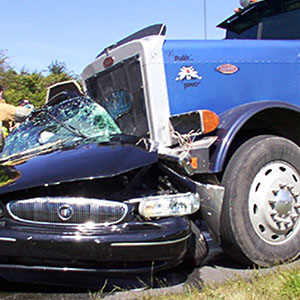 Whether you were injured in a truck accident as the driver of the truck, or if you were the other party, it is important that you get skilled legal representation from a truck accident attorney who cares. I provide personalized legal care for clients involved in a truck accident.
Common Truck Accidents and Injuries
It does not matter what type of truck accident you were involved in. I can help.
Careless Drivers. Inexperienced or careless driving can cause serious accidents.
Sleepy Drivers. During long hauls truck drivers can become fatigued and tired. This is the cause of many serious truck accidents.
Roll-overs. When the weight in a truck shifts, it can cause the wheels to not be secure on the ground. This allows the entire truck to tip over and roll, possibly onto other vehicles.
Blowouts. Although a blowout can happen to any vehicle, they are particularly dangerous on a truck. A blowout can make it extremely difficult to control the truck and get it pulled over, causing a dangerous situation for all other drivers in the area.
Jack-knifes. Jack-knifing can happen during extreme weather conditions, extreme speed, or loss of control. When the cab of the truck is facing one direction and the trailer is facing the opposite way, that is when a truck is jack-knifed. When the trailer swings around, it will damage anything in its way.
When any of these accidents occur, there are a variety of injuries that can take place. Some of those injuries include:
Broken bones
Paralysis
Spinal cord injuries
Head and neck injuries
Lacerations
Burns
Death
Contacting Me
When you contact me, you can expect one on one service every time. I take the time to really understand each client's individual situation and will do everything I can to make sure you are taken care of legally so that you can focus on your physical recovery. With fifteen years of experience as a trusted attorney for many clients, I work hard to help you maximize your recovery as I minimize the hassle. To speak directly with a professional who is highly experienced in truck accident injuries, contact me today at 360.906.8330